Corporate Services
Rhythm Revolution™ is available for your program needs. Whether it's for a group of 10 or 3000 participants, our experienced facilitators produce high quality, custom, Rhythm Based Events to meet and exceed your needs and objectives! Please call or e-mail us for a consultation!
Program Formats
Keynote experience
Corporate Team Building
Synergy Building Session
Ice Breakers
Flash Jams- instant music circle at a conference or anywhere.  We show up, hand out gear, engage the public, get them really grooving, then disappear.
African drum class model
Japanese Taiko class model
Custom formats to fit your needs!
Health Rhythms protocol session.
Corporate Team Building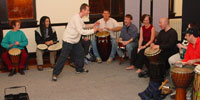 Rhythm Revolution's "Team music circle" TM utilizes experiential music making to bring your group to a higher level of communication, synergy and camaraderie. Using the power of music, this experience takes the team beyond the agendas and the attachments of verbal speech to communicate in a way that effects people physically, emotionally, and cognitively. No matter what the perceived musical level, this proven team building process delivers the group to a place where it functions as a high performance team manifesting itself in the music it co-creates.
Rhythm Revolution "Team Music Circle" TM Benefits:
Participants engage in a fun and exciting hands on format
Health and wellness
Relieves Stress
Builds camaraderie
Demonstrate the individual's effect on the team
Simultaneously demonstrates the value of diversity while building unity
Improves Mood
Increases Energy
Increases Cognitive Stimulation and creative thinking
Paradigm Shift
Increases effective communicating and listening
Partial Client List
• Lexus
• Discover
• GSK Glaxo Smith Kline
• Anheuser-Busch
• Honeywell Corporation
• Hitachi
• Leo Burnett Advertising
• John Nuveen Corporation
• Takeda Pharmaceuticals
• ADP
• MarchFIRST
• Nalco Chemical Company
• The Mayors' office of Special Events (Chicago)
• Northeastern Illinois University
• The Chicago Park District
• Harold Washington College
• Little City Foundation
• The City of Evanston
• The City of Waukegan
• Lowrey Organ Company
• Beverly Arts Center
• Remo
• First Night Evanston
• Ravinia Festival
• Symphony Center
• University of Chicago Lab School
• The Field Museum of Chicago
• Fourth Floor Consulting
• VSA Partners
• Mead West Vaco
• Waukegan Park District
• World Music Festival of Chicago