Primitive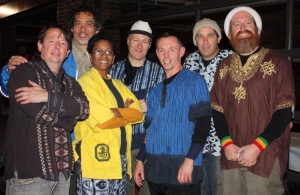 When European explorers originally came upon music of indigenous cultures they condescendingly called the art and music of these cultures "Primitive". It wasn't until they looked deeply at the structures did they see the true complexity and genius of the art forms . Primitive is a musical collaboration combining music from various indigenous cultural influences with the premise of the heart beat connects us all. Artists collaborating on this project are: John Yost, Manny Bances, Kim DeVore, Bill Miller, Scott Mosak, Ray West, and Joe Yost. The musicians have deeply studied and performed with masters from Belize to West Africa, Japan and beyond.
Instrumentation typically includes: Didgeridu, Western flute, Japanese Shinobue (flute), Djembe, Dunun, Bugarbu, Nyahbinghi Drums, Saxophone, Guitar, Keyboard, triangle, gongoma, shakers and more.
For booking and upcoming performances contact: John: (773) 802-0605 or email [email protected]
Upcoming Shows: Stay posted for shows.
Like us on Facebook
Join our mailing list:, Send your full name, address, zip code, phone # and email address to: [email protected]